Since 2009 San Diego Dances is our biannual 'roving' mini-festival in partnership with businesses who provide their space in support of making professional dance performances affordable and available to more people in innovative ways.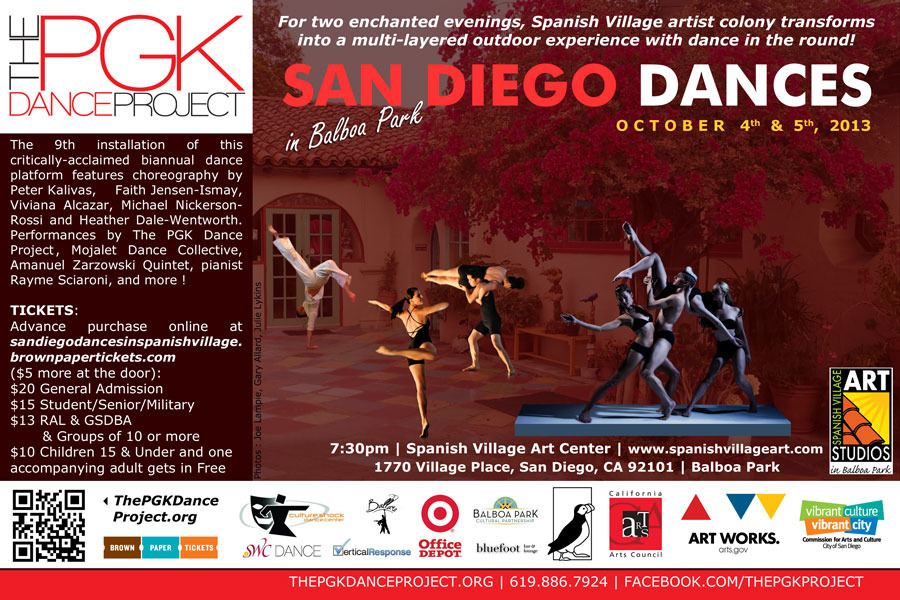 In collaboration with a glass blower, sculptor, painter, composer, pianist, media film projectionist.
Artistic Director, Peter G. Kalivas reinvents choreographies from 'PGK' rep. that will transform the space, and integrate these mediums within the famous artist colony to create a multi-layered, outdoor experience with dance in the round.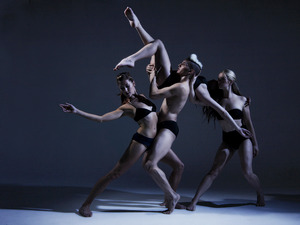 Photo of Work by Michael Nickerson-Rossi demonstrating his sculpted aesthetic
Guest Choreographer Michael Nickerson-Rossi (Winner of 'PGK's' "Another Kind of Choreographer's Competition) completes his new work inspired by four dispirate elements: Rain, Contact, Percussion and Heat for 'PGK' dancers.Mojalet Dance Collective, founded by long time San Diego Dance veteran, 
critically acclaimed, award winning dancer Faith Jensen-Ismay presents two duets that display's her range between the 'Tongue & Cheek' to 'Powerful, driving work' featuring her equally wonderful dancers.A new solo work created by Viviana Alcazar for newest 'PGK dancer' Desiree Cuizon looks at the space between regret and hope rounds out this whimsical, enchanting new evening of dance.  Heather Dale Wentworth of The PGK Dance Project choreographs and premier and new solo work.Amanuel Zarzowski, composer for the music of 'Wood Breaks', premiered by 'PGK' in March at 3rd Space presents this original, commissioned score once again originally featuring 2 violins, cello, clarinet and didgeridoo.   Pianist, Rayme Sciaroni, creates an altogether new and different arrangement and accompanies, vocalist, Peter Kalivas in the revival of 'Besame', a somewhat dark, tense yet still romantic duet originally premiered while 'PGK' was in residence at The Shymkent Opera House, Kazakhstan in 2010.  'Love is Gone' and 'Flexible While Frozen' compliment the program all with these other mediums weaving in and out throughout.
Admin@ThePGKProject.org
or 619-886-7924 for More Information
San Diego Dances in Spanish Village is sponsored by The City of San Diego Commission for Arts & Culture, Fall for the Arts, California Arts Council, The Puffin Foundation, The Target Foundation, Spanish Village and the Balboa Park Partnership, The Ascend Support Group, Caren Dufour Design, Office Depot, Vertical Response, A Class Act, Inc., Bluefoot Art Bar & The Soda Bar, Culture Shock Dance Center, Southwestern College Dance Department, The San Diego School for the Creative & Performing Arts Chula Vista, Grossmont College, Montgomery Middle School, America's Finest Charter School.